OVH Dedicated Server with NVME Drives
Hey,
I am currently trying to install the Windows 2016 Datacenter Evaluation 64 bit template onto my OVH Dedicated Server in their Gravelines DC. The server is a "MC-64-OC Server" which is an OC 7700k, 64GBs of RAM and two NVME SSDs at 480GB each.
The devices on the system are as follows:

I have DDed the template to both the nvme0n0 and nvme1n1 devices, although when booting the machine it does not appear to boot to either of them successfully. According to OVH's help documentation software RAID setups ought to have the "md" device, which is present as according to the rescue system. However; the md device appears to be an empty directory and not an actual device.
"fdisk -l" reports the following for the nvme devices post install attempt: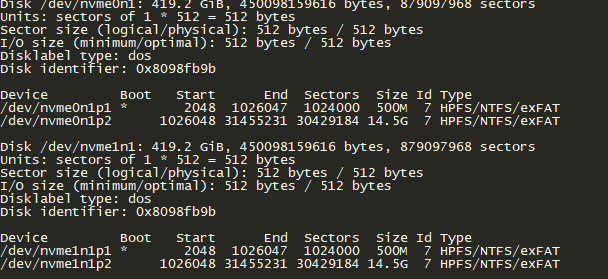 Any assistance you can provide would be greatly appreciated, please let me know if you need anymore information. Thanks.
Posted : 09/02/2018 4:12 pm